How you can help Edible York with Abundance?
- please join us and help harvesting -  tell your friends!  We rely on volunteers to pick, sort and deliver fruit (mainly apples) across York.
Pass on your  local knowledge -
Do you have a fruit tree in your garden that is so prolific you need to offload some of the crop?  
Do you have a neighbour who would like help managing their fruit trees?  
Is there a fruit tree in a public place near to you that is neglected each autumn?
And if you know of great community groups, events, or projects that can use some of this abundant harvest then definitely chat to them and let us know.
Do you know of
a charity
a foodbank
school, playgroup or nursey
community cooking project
local event
... or other project that would like to receive free donations of fresh fruit in the Autumn? Let us know!
Abundance has its own dedicated Facebook page to keep volunteers updated about picking dates, or we can email or text you if you are keen to take part.
We now have 'Apple HQ' in Salisbury Road, close to the Leeman Road Orchard and beside Minster Vets. This is a large locked container where Abundance volunteers can collect equipment and drop off the fruit prior to distribution or juicing. 
 Please share, if you would like some leaflets to hand out let us know as we have lots!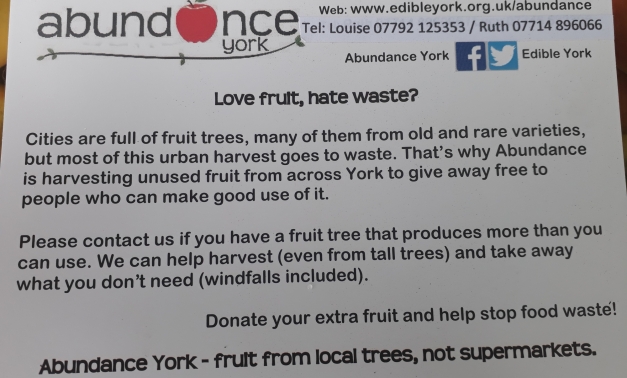 Do you only pick apples?
We will help with most types of fruit picking, if we can find homes for the fruit. Pears, plums, damsons, and maybe even walnuts are offered occasionally, but some things are easier to find takers for than others. Give us a call or drop us an email with the details and we will try and help!
We also have an Edible Swaps and Shares group on Facebook called York Edible Exchange where people can offer anything from chillis to marrows to crab apples and find other unusual fruit and connect up givers and takers across York.
Here are some yummy pears we collected this year: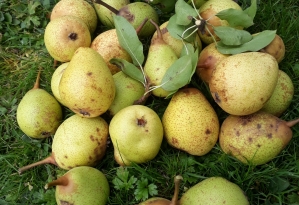 Apple HQ - our permanent storage container - now beautifully painted!
A fantastic collaboration between a local artist and a local primary school produced a beautiful design and newly painted look for our apple container in 2018!
Before and After:

 Read more about this lovely project in the York Press article